Beauty & Self
Books & Music
Career
Computers
Education
Family
Food & Wine
Health & Fitness
Hobbies & Crafts
Home & Garden
Money
News & Politics
Relationships
Religion & Spirituality
Sports
Travel & Culture
TV & Movies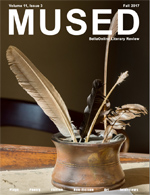 Autumn is a season for counting our blessings. For realizing just how much we have in life where so many others are without. It can often be easy to take things for granted. Things which millions of people desperately dream of having. By pausing for a moment, and looking around with mindfulness, we can find a new center. Begin with fresh energy.

Enjoy the Mused Autumn Equinox 2017 Issue



Sweet Potatoes - Camotes
Mexican Food - Mickey Marquez, Editor

Mexicans have been eating sweeting potatoes since preHispanic times. This recipe, a festive, savory side dish, tempts back memories of holiday marshmallow casseroles and candied yams, but with added sophistication from the earthy, New World gift of piloncillo, Mexico's unrefined pure cane sugar.




Healthy Thanksgiving Dinner Recipes
Nutrition - Moss Greene, Editor

These healthy Thanksgiving recipes, including the perfect healthy turkey with wild rice stuffing, help you to stay healthy once Thanksgiving dinner is over.




Murder under the Covered Bridge Book Review
Suspense / Thriller Books - Karen Hancock, Editor

Three friends are having a photo shoot to cross an item off their bucket list, and discover gunshots that are too close for comfort. They find the victim near the water, & since he is unconscious, can get no clues from him. They team up to find the would-be murderer & find themselves in danger.




Lovely Tatting Doilies Fall and Winter Hye-oon Lee
Tatting - Georgia Seitz, Editor

Hye-oon Lee, author of "Lovely Tatting: Doilies for Spring and Summer," has published a new book! English. Hye-oon presents many doily patterns with traditional edgings. Most of those in this book feature open centers instead of the round center ring




Giving Books for Gifts
Reading - Connie Mistler Davidson, Editor

With the emphasis on electronics, the tradition of giving books has gone out of vogue, at least in some parts of the world. Not so in Iceland. Books are considered a precious present for the holidays. How can you make this sweet tradition a part of your family's holiday season?




ADD and Family Holidays
Attention Deficit Disorder - Connie Mistler Davidson, Editor

Many groups celebrate their holiday customs in the early winter. For families who have members with Attention Deficit Disorder, these holidays can be trying. The family routine goes right out the window. How can you make this a great holiday season while spending time with family & friends?


| Google+ |
E D I T O R R E C O M M E N D E D
Best Sweepstakes Newsletter Subscription


Best Sweepstakes is an excellent way to keep up on the latest sweeps and contests via online, snail mail and text entry. Itīs been around for years and is a trusted newsletter among sweepstakers.
Ni Hao, Kai- Lan: Super Special Days DVD


This Ni hao, Kai- Lan DVD: super Special Days is great for preschoolers who are fans of the show, or for preschoolers who need help identifying and managing negative emotions.
Stranger Safety Video


From Julie Clark, the mom and creator of the Baby Einstein series stars as the super energetic safe side chick in her highly entertaining, yet kid-sized educational video to teach children about strangers. Julie Clark, along with John Walsh the host of Americas Most Wanted Show have created a video packed with sound advice on Stranger Safety for kids age 2-10.