Beauty & Self
Books & Music
Career
Computers
Education
Family
Food & Wine
Health & Fitness
Hobbies & Crafts
Home & Garden
Money
News & Politics
Relationships
Religion & Spirituality
Sports
Travel & Culture
TV & Movies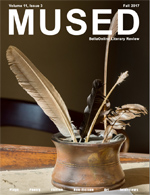 Autumn is a season for counting our blessings. For realizing just how much we have in life where so many others are without. It can often be easy to take things for granted. Things which millions of people desperately dream of having. By pausing for a moment, and looking around with mindfulness, we can find a new center. Begin with fresh energy.

Enjoy the Mused Autumn Equinox 2017 Issue



Queen Alysanne Scarf
Knitting - Korie Beth Brown, Ph.D., Editor

Here's a free pattern for a quick knit, three season lace scarf. It's easy enough for beginners, but looks like an heirloom piece.




Comic Art in California
California - Korie Beth Brown, Ph.D. , Editor

Interested in comics, manga, and the like? Here are a few places to visit when between conventions.




Pranayama and the Nervous System
Yoga - Korie Beth Brown, Editor

Breath is intimately connected to movement in yoga. Do you know the science behind the exercises?




Rare Works of Pope on Art Market - Francis Bacon
Art Appreciation - Camille Gizzarelli, Editor

British expressionist artist Francis Bacon is well known for his 'pope' paintings. Two rare Bacon papal works will be auctioned by Christie's in London. I'll discuss the merits of these fine paintings.




Beef Wraps with Peanut Sauce Recipe
Sandwiches - Connie Mistler Davidson, Editor

Beef Wraps with Peanut Sauce Recipe is a tasty way to use small amounts of meat in a hearty wrap with lots of veggies. The sauce is so delicious that I had a hard time not licking the bowl! Your friends and family will love these!




5 Cruise Cabin Secrets For Your Next Cruise
Cruises - Nancy Schretter, Editor

Cruise vacationers want their stateroom to provide all the comforts of home and plenty of storage space. In addition, they want to get the finest stateroom they can afford at a great price. Here are five insider tips for landing the best cruise cabin and making it as comfortable as possible.


| Google+ |
E D I T O R R E C O M M E N D E D
Ultra Luster Waterless Car Wash


Ultra Luster Waterless Car Wash: Article Coming in Spring but you can buy it now! Waterless Car Washing just got easier and the results just got better! Get yours now at: UltraLuster Wash, Phone: 877-677-4463, Email: sales@ultralusterwash.com, distributors@ultralusterwash.com shipping@ultralusterwash.com customerservice@ultralusterwash.com
Low Carb - First Two Weeks


Get instant access to step by step instructions, handy tips to get you through the rough spots, background information on low carb dieting, and more.